"Who is this band?"

The "warm havana nights" sound of Scott Andrews' sizzlin' saxophone, James Gallardo's cookin' bass, and Darrel Voss' hot bongo and conga drums fill the air with a headstrong and cool confidence.

You know you have heard many of these songs before...back in the days when martini's and umbrella drinks were standard nooner fare... but have you heard them played like this?

It's a whole new re-imagined sound, the playing especially gentle yet fiery, the counterpoint deft and delicate, the sound so damn "cool" that you have to call it that, recreated in a trio form - minimalist style - by three masterful musicians who swing, funk, and pound out a conga dance like no other within miles from the Central Coast of California.

Since 2005, Black Market Trio enlivens events, parties, wine and art gatherings, festivals, premiere stage events, corporate events, benefits, house parties, and more with themed parties like "Exotica Night" "Havana Night" "Mardi Gras" "Bond Party" and many more amazing VIP and fun concert events. Whether enlivening a party or featured as a the band everyone came to see, Black Market Trio delivers a sound you will hear nowhere else in America.

If you are not yet a Black Market Trio fan, you will be after one experience. You may even decide to take up the saxophone, bass, or bongo drums yourself - their enthusiasm for their crafty rhythms is that infectious - and practice 'til your fingers get blood-blisters and your wrists carpel tunnel syndrome. But don't say you weren't warned!

Black Market Trio can stylishly blend in the background or come to the forefront and bring the dancers alive with taboo-influenced, rhythmic saxophone-screamin', cowbell-beatin', bass-thumpin' Latin Fever!

It's a vibe that will last in the memories of each guest long after the event is over.

"Who is this band?" they ask.

The answer:  BLACK MARKET TRIO

"Don't say you weren't warned!"

Call 805 - 459 - 6939 to book Black Market Trio today!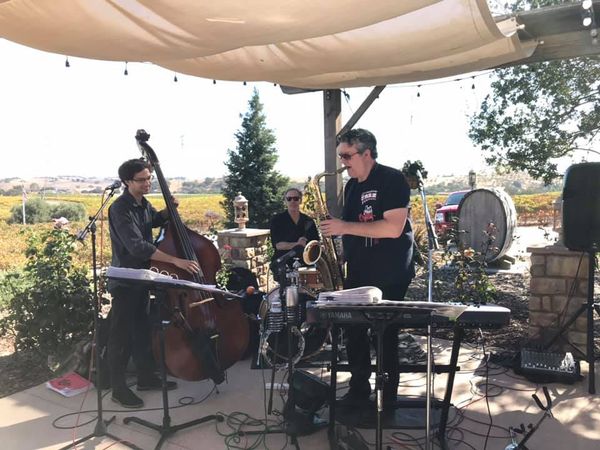 Members:
Scott Andrews - Saxophones / Vocals / Percussion / Keys
James Gallardo - Acoustic Bass
Darrell Voss - Congas / Bongos / Other Percussion

Special Guests & Alternates include:
Talia Ortega - Flute / Vocal (for our "Havana Nights" shows)
Sean Sullivan - Drums / Percussion (Timbales for our "Tribute to Tito Puente" shows)
Teddy Ramirez - Drums & Bongos
Noah Briley - Drums / Percussion
Matthew "Mingus" Evans - Acoustic Bass
Joe Duran - Electric Bass
Also, for our Tribute to Tito Puente or other SALSA type of (5-6 piece band configurations):
Justin Perkins / Percussion & Pans
Rick Collins - Congas
Sean Alexander Collins - Vibes for Havana Nights shows
Genres:
Salsa, Latin Jazz, New Orleans Trad Jazz, Afro-Cuban, Funk, Hip Hop, Bossa Nova, Exotica, Mambo, Boogaloo, New Oreans 2nd Line.

Or, in other words, the sound of sweet, golden-flecked sensuality crossed with dynamic hip churnin' music.

Black Market Trio shows comprise original and cover songs you will recognize from cool jazz, lounge, funk, afro, latin, exotica, space age pop, Dixieland and bossa nova eras. Our original songs are both Latin and Funky flavored. 
Available and Over 10 years' Experience: 
Concerts, Festivals, Private Parties, Special Theme Events, Movies & Film Score, Charity Events, Winery Events, Weddings, Corporate Events. 
We specialize in VIP events and making your event memorable.

Hometown:
San Luis Obispo, CA

Record Label:
BODY MUSIC, INC.
CLICK HERE for FAN CLUB information.
CLICK HERE to Book Black Market Trio.